Tacit and Explicit Knowledge
In the area of knowledge management, a large part of knowledge is not explicit but tacit. Following Polanyi's [1] epistemological investigation, tacit knowledge is characterized by the fact that it is personal, context specific, and therefore hard to formalize and communicate. Explicit, on the other hand, is the knowledge that is transmittable through any systematic language. Polanyi contends that human beings acquire knowledge by actively creating and organizing their own experiences. Thus, explicit knowledge represents only the tip of the iceberg of the entire body of knowledge.
In addition, Nonaka and Takeuchi [2] defined their dynamic model, called knowledge conversion process, on the assumption that human knowledge is created and expanded through social interaction between tacit and explicit knowledge.
Knowledge Conversion Process
Effective KM requires a continuous knowledge conversion process. According to Nonaka and Takeuchi [2], and to the contextualization in the medical area provided by Stefanelli [3], it represents a social process between individuals and not confined within an individual. Four different modes of knowledge conversion have been postulated (Figure 1):
Externalization (tacit to explicit) is the process of conversion of tacit into explicit knowledge, for example the translation of a clinical trial result into a recommendation for clinical practice.

Combination (explicit to explicit) is the process of enriching the available explicit knowledge to produce new bodies of knowledge, for example combining medical and organizational knowledge into a decision support system.

Internalization (explicit to tacit) is the process of individual learning by repeatedly executing an activity applying some type of explicit knowledge, e.g. a CPG, and absorbing the relationship between actions and results as new personal tacit knowledge.

Socialization (tacit to tacit) is the process of learning by sharing experiences that creates tacit knowledge as shared mental models and professional skills (e.g. apprentices learning process, or expert consensus achievement during medical meetings).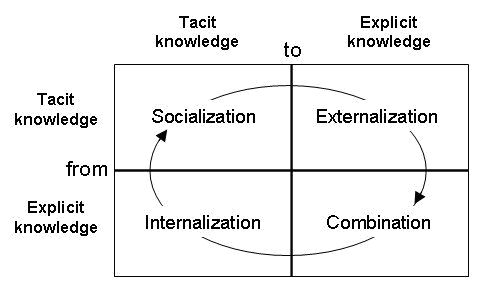 Figure 1 - The knowledge conversion processes in a knowledge creating organization according to Nonaka and Takeuchi [2].
Implicit Knowledge
De Long [4] asserted that: Tacit/explicit dimension is too general to be useful to managers trying to decide what knowledge transfer prectices would be more effective in their situation. He defined four different states that better qualify the knowledge called "tacit":
Implicit rule-based knowledge it identifies knowledge that could be made explicit and codified if agents just have the time and inclination to do so. An example is when technicians are aware that the process explained in a manual is not the best way to complete a task.

Implicit know-how it is knowledge that can be communicated but usually is not codified because of the contextual complexity involved... sometimes it is just a matter of the right questions in the right moment.

Tacit know-how it is knowledge very difficult to verbalize. It is strictly connected to expertise and t is really hard to articulate because it is so complex and situationally defined.

Deep tacit knowledge it is the colletively shared beliefs, mental models and values that determine what individuals view as important and even what they define as relevant knowledge. It is the most difficult to acquire because it is usually transferred unconciously through a set of practices that are unique to every organization.
References
[1] Polanyi M.
The tacit dimension.
London, UK: Routledge & Kegan Paul, 1966.
[2] Nonaka I, Takeuchi H.
The knowledge-creating company.
Oxford, UK: University Press; 1995.
[3] Stefanelli M.
The socio-organizational age of artificial intelligence in medicine.
Artificial Intelligence in Medicine, Issue 23, 25-47, 2001.
[4] DeLong David W.
Lost Knowledge: Confronting the Threat of an Aging Workforce.
Oxford University Press (August, 2004)